The Reykjavik poutine, in Iceland
Ingredients
Grocery store mozzarella

(Íslenskur) Fries from a fast food stand

The legendary Icelandic hot dog (but remove the bread for fuck's sake)

The brown hot dog sauce (pylsusinnep) but it's far from tasting like gravy
Bonus poutine
The Islandic poutine

With Skyr, an icelandic cheese. It's like yogurt but can be made more solid by not whipping it and pressing it in a cheese cloth.

Red icelandic potatoes (Kartöflur rauðar)

Kæstur hákarl, fermented shark for that overpowering ammonia flavour.

Sheep gravy.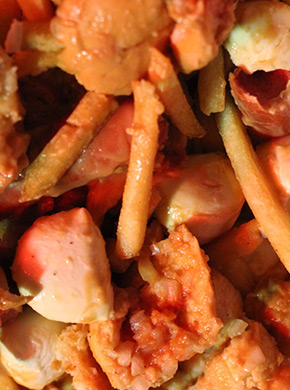 Thanks
Bæjarins Beztu Pylsur - Hot Dog

Kvosin Supermarket - Cheese

Pylsuhúsið - Fries

City of Reykjavík - Reykjavíkurborg

Geysir

Þingvellir National Park

Gullfoss Waterfall
Music
More Like Georgia - New Kids

Paper Tigers - Jennifer Lawrence
Licenced by Audiio. Follow the link for more details. The code "Poutiner10" will give you 10% off.
Original music by Charlie Twitch
- Main themes; opening, credits.
Credits
Created, written, directed and post-production by Olivier Bonenfant
Camerawoman and assistant director Iphigénie Frey
Notice
This series and this episode are not associated nor sponsored by these businesses, organisations or filming locations. This list is indicative only and there is no guarantee on accuracy.

The critical part of this episode with the review reflects only the final assembled poutine and not the individual ingredients and products. For entertainment only.

All footage captured from and on publicly accessible places or via an entry fee. No fence jumping.