Ingredients
Spicy fried potatoes

Product product process something cheese

Chicken skewers
Bonus poutine
The Szechuan-Yunnan poutine

Szechuan shredded potatoes (土豆丝)
Real unique recipe where the potatoes are extremely slip. Give'em a quick dip in the fryer.

Rushan cheese (roo-shan), a cheese from the Bai people in Yunnan. There's also Rubing cheese 乳饼 in Yunnan. Too grill like halloumi.


Wild Yunnan mushrooms gravy with Szechuan chillies

The beef strips of a spicy Szechuan stir-fry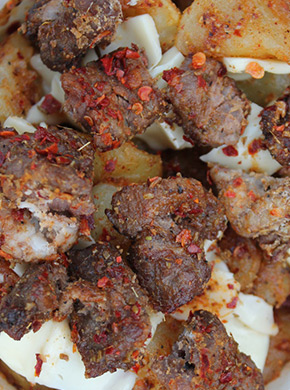 Added content
Click here for a dedicated page with extras..
- 3 images
- 1 dual-screen 5120x1600 wallpaper
- A video of Stone Forest, The Stone Forest in Shilin Yi Autonomous County is incredible. An adult playground.
- Merry Christmas in Kunming, Yunnan
Christmas takes another shape here. In video.
Thanks
Kunming, Yangshuo, Xingping, Longsheng, Chengyang, Fenghuang, Yichang, Shillin Stone Forest, Three Gorges Dam, 7-Eleven, YHA China
Music
Cool Hand Juke Tomahawk (Instrumental)

Animal Assassin, Tear Down (Instrumental)
Licenced by Audiio. Follow the link for more details. The code "Poutiner10" will give you 10% off.
Original music by Charlie Twitch
- Main themes; opening, credits.
Credits
Created, written, directed and post-production by Olivier Bonenfant
Camerawoman and assistant director Iphigénie Frey
Notice
This series and this episode are not associated nor sponsored by these businesses, organisations or filming locations. This list is indicative only and there is no guarantee on accuracy.

The critical part of this episode with the review reflects only the final assembled poutine and not the individual ingredients and products. For entertainment only.

All footage captured from and on publicly accessible places or via an entry fee. No fence jumping.