The Khmer poutine, in the south of Cambodia
Ingredients
Bar fries

Bar gravy

Grated cheese

Seafood Lok Lak

Onions

Kampot pepper

Sliced tomato
Bonus poutine
I'd love to do the usual and suggest another poutine with local unique ingredients but it's like this poutine was so good I can't even. I know it was only two meals mixed together but I've got nothing else to suggest.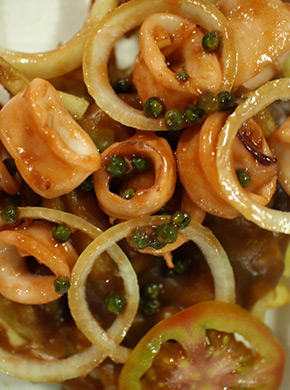 Thanks
Shooters Pool and Pizza Bar, Sihanoukville Original poutine
Credits
Created, written, directed and post-production by Olivier Bonenfant
Camerawoman and assistant director Iphigénie Frey
Notice
This series and this episode are not associated nor sponsored by these businesses, organisations or filming locations. This list is indicative only and there is no guarantee on accuracy.

The critical part of this episode with the review reflects only the final assembled poutine and not the individual ingredients and products. For entertainment only.

All footage captured from and on publicly accessible places or via an entry fee. No fence jumping.