The Lok Lak poutine, in Cambodia
Ingredients
Crinkle cut fries Poutine sauce Beef Lok Lak Beef Lok Lak sauce Onions Crispy tomato slices Grated cheese
Bonus poutine
And in bonus, the turbo Lok Lak poutine

The same recipe but you add, Prahok (ប្រហុក) Cambodian cheese. The funny part is that it's not cheese it's crushed, salted and fermented fish paste and it's probably smelling like old cheese.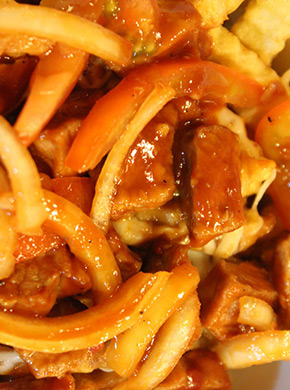 Thanks
You Hong I&II Restaurant And Guest House

Kratie / Krong Kracheh

Kampi Rapid and Kam Pi Pleasance

The Irrawaddy dolphins

Phnom Sambok Pagoda
Credits
Created, written, directed and post-production by Olivier Bonenfant
Camerawoman and assistant director Iphigénie Frey
Notice
This series and this episode are not associated nor sponsored by these businesses, organisations or filming locations. This list is indicative only and there is no guarantee on accuracy.

The critical part of this episode with the review reflects only the final assembled poutine and not the individual ingredients and products. For entertainment only.

All footage captured from and on publicly accessible places or via an entry fee. No fence jumping.