The Shan poutine, from the Chinese mountains
Ingredients
Chips imitating fries Kids cheese sticks Fucking hot sauce Meatless
Bonus poutine
The Shaanxi-Anhui poutine Huangshan is in Anhui province and Huashan is in Shaanxi. I should work around this instead. Fermented tofu Bagongshan, or commonly called stinky tofu. Li Hongzhang's chop suey sauce but as spicy as you'd make it in Shaanxi Real fries Shaanxi goat cheese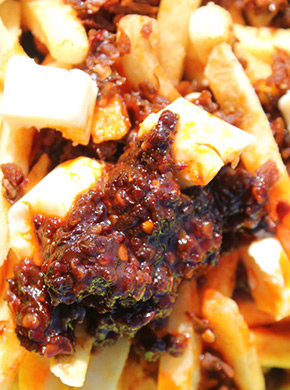 Added content
Click here for a dedicated page with extras..
- 3 images
- 1 dual-screen 5120x1600 wallpaper
- Huashan and Huangshan video. A taxing and impressive climb even if everything is paved and well maintained.
- More pictures of the climb.
Thanks
Huashan and the crazy rain

Huangshan And the taxi guy who tried to scam us so we walked 25km more at night
Music
Daniel Jorgensen - Light Commons

Petteri Sainio, To The Lighthouse
Licenced by Audiio. Follow the link for more details. The code "Poutiner10" will give you 10% off.
Original music by Charlie Twitch
- Main themes; opening, credits.
Credits
Created, written, directed and post-production by Olivier Bonenfant
Camerawoman and assistant director Iphigénie Frey
Notice
This series and this episode are not associated nor sponsored by these businesses, organisations or filming locations. This list is indicative only and there is no guarantee on accuracy.

The critical part of this episode with the review reflects only the final assembled poutine and not the individual ingredients and products. For entertainment only.

All footage captured from and on publicly accessible places or via an entry fee. No fence jumping.