The Swedish poutine, in Stockholm
Ingredients
Potatoes cut in any way whatsoever

Swedish meatballs

Meatballs sauce

Gjetost ("yed-OOST") cheese like vaguely sweet buttery local cheese. Also Norwedgian.
Bonus poutine
The real Swedish poutine

Hasselback potato, fried.
Hasselback is supposed to be a Swedish specialty.

Swedish meatballs in a brown sauce. Don't add sour cream to the sauce! We want brown.

Kaffeost cheese, it's like dried cheese that you serve with tea and I believe it becomes soft and squeaky again when it's warm.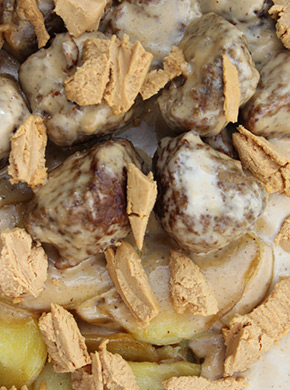 Thanks
M Seger Eftr. Kött & Ost

Stockholms stad

Vasa Museum

Östermalm Saluhall
Credits
Created, written, directed and post-production by Olivier Bonenfant
Camerawoman and assistant director Iphigénie Frey
Notice
This series and this episode are not associated nor sponsored by these businesses, organisations or filming locations. This list is indicative only and there is no guarantee on accuracy.

The critical part of this episode with the review reflects only the final assembled poutine and not the individual ingredients and products. For entertainment only.

All footage captured from and on publicly accessible places or via an entry fee. No fence jumping.