Ingredients
Fast-food fries

Brown sauce from a braised grandmother

Sad cheese sticks

Xiaolongbao, or Soup Dumplings
Bonus poutine
Next level Shanghai

Hong Shao Rou 红烧肉, a delicious recipe of porc belly

Gravy sauce with Shaoxing wine

Look for "best french fries shanghai" and go for it

Yili Wonderful Cheese Fresh String Cheese If you're going for cheese sticks may as well choose the local ones that look good too

You crown the poutine with Shengjianbao, a Shanghai specialty. These are Pan fried pork buns.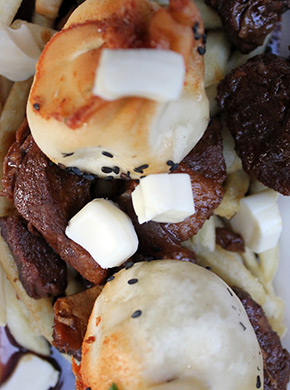 Thanks
Shanghai Snack 上海小吃
Xiaolongbao

Shanghai First Foodhall
The store for the cheese

Aria
Cheese company

KFC
Fries
Music
Staircases, Samurai Dance Fight

Jones Island, San Bernardino
Licenced by Audiio. Follow the link for more details. The code "Poutiner10" will give you 10% off.
Original music by Charlie Twitch
- Main themes; opening, credits.
Credits
Created, written, directed and post-production by Olivier Bonenfant
Camerawoman and assistant director Iphigénie Frey
Notice
This series and this episode are not associated nor sponsored by these businesses, organisations or filming locations. This list is indicative only and there is no guarantee on accuracy.

The critical part of this episode with the review reflects only the final assembled poutine and not the individual ingredients and products. For entertainment only.

All footage captured from and on publicly accessible places or via an entry fee. No fence jumping.