The Burmese poutine, in Myanmar
Ingredients
An entire buffet with multiple brown sauces and curries

Okras and eggplant

Crinkled fries

Fresh buffalo mozza
Bonus poutine
In bonus, the Burmese poutine 2

Same fries and cheese.

It's obvious the sauce is still a curry

Tea leaves because tea leaves salad is amazing and a local specialty.

Pe Byouk, a recipe of boiled peas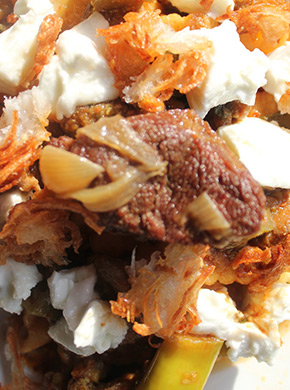 Thanks
Feel Myanmar Food, Yangon
Main restaurant

Sharky's Yangon
Cheese

Taste Restaurant, Yangon
Fries

Bagan, Myanmar

Yangon, Myanmar

Everyone nice in Myanmar Gaba Macleod
Music
Ashley DuBose & YNKE
Get out (Instrumental)
Dreads down (Instrumental)
Licenced by Audiio. Follow the link for more details. The code "Poutiner10" will give you 10% off.
Original music by Charlie Twitch
- Main themes; opening, credits.
Credits
Created, written, directed and post-production by Olivier Bonenfant
Camerawoman and assistant director Iphigénie Frey
Notice
This series and this episode are not associated nor sponsored by these businesses, organisations or filming locations. This list is indicative only and there is no guarantee on accuracy.

The critical part of this episode with the review reflects only the final assembled poutine and not the individual ingredients and products. For entertainment only.

All footage captured from and on publicly accessible places or via an entry fee. No fence jumping.