The Burmese poutine, in Myanmar

Releasing February 8th
Episode 8
Country
Myanmar
Main featured city
Yangon
Duration 4:27
Released on 2021-02-08
Next episode

Ingredients
The ingredients will be listed:

-Fries
-A local sauce
-Local cheese, hopefully
-A regional meat in a traditional recipe
Bonus poutine
The bonus poutine is a poutine that I couldn't make myself for lack of time or resources but that I still detail because it has an even stronger cultural relevance with the country and the region. Basically, it's often a harder, weirder poutine to make and only exists as a list (until someone makes it).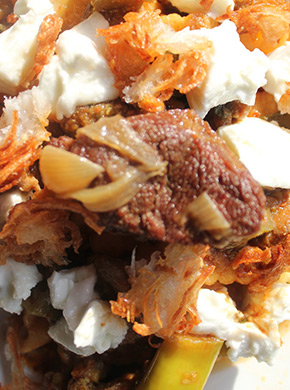 Thanks
List to come with the episode
Music
Ashley DuBose & YNKE
Get out (Instrumental)
Dreads down (Instrumental)
Charlie Twitch
(Main theme)
Credits
Created, written, directed and post-production by Olivier Bonenfant
Camerawoman and assistant director Iphigénie Frey
Notice
This series and this episode are not associated nor sponsored by these businesses, organisations or filming locations. This list is indicative only and there is no guarantee on accuracy.

The critical part of this episode with the review reflects only the final assembled poutine and not the individual ingredients and products. For entertainment only.

All footage captured from and on publicly accessible places or via an entry fee. No fence jumping.