The Australian poutine, in Sydney
Episode 21
Country
Australia
Main featured city
Sydney, Blue Mountains
Duration 4:30
Released on 2021-11-15
Next episode

Ingredients
Food truck chips (or frozen)

Tasty cheese

Poutine sauce

Kangaroo (steak)

Crocodile (sausage)

Tasmanian goat cheese
Bonus poutine
The Aussie poutine

Chicken salt steak chips

A cheeky Aussie invention that chicken salt

Beef gravy with vegemite

And egg on top and beetroot cubes It's two essential parts of the Aussie burger

Imported curd cheese
Curd cheese was illegal until recently so better import it

Roo and croc
You can find kangaroo at the grocery store and crocodile starts appearing in restaurants menu in the north in backpackers cities.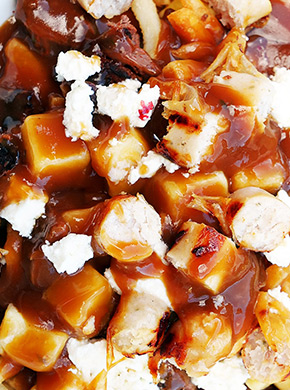 Thanks
Le Montreal Shack for the poutine

City of Sydney

VIVID Festival

Chatswood

Sydney Opera House

Blue Mountains / Katoomba

Spit bridge to Manly walk

Poutine Poutineville Rosemont

Lucie Bonenfant

Caroline Tran

Audiio.com pour la musique

Glyn Francis

Francis Dallaire

Les restaurateurs de Melbourne avec de la poutine au menu et tous ceux qui nous ont suivi dans notre voyage
Music
Yellen

Last man standing (Instrumental)

Animal Assassin, Tear Down (Instrumental)
Licenced by Audiio. Follow the link for more details. The code "Poutiner10" will give you 10% off.
Original music by Charlie Twitch
- Main themes; opening, credits.
Credits
Created, written, directed and post-production by Olivier Bonenfant
Camerawoman and assistant director Iphigénie Frey
Notice
This series and this episode are not associated nor sponsored by these businesses, organisations or filming locations. This list is indicative only and there is no guarantee on accuracy.

The critical part of this episode with the review reflects only the final assembled poutine and not the individual ingredients and products. For entertainment only.

All footage captured from and on publicly accessible places or via an entry fee. No fence jumping.