The Beijing Night poutine
Ingredients
Weirdo mountain of fries

Meatball sauce

Silk worms

Scorpions
Bonus poutine
The morally debatable poutine

Look, just add everything; tarantulas, sea horses and cockroaches.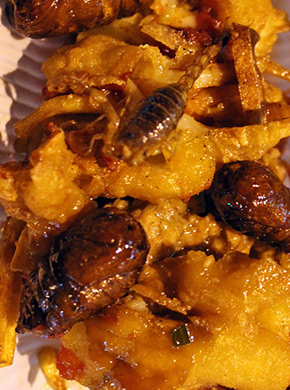 Thanks
Shuang'an night market

Wangfujing food market

Hehua Market 荷花市

The Place - Beijing
Music
Andy D. Park, Forever Fight

Kayla Nicole, Madhouse (Instrumental)
Licenced by Audiio. Follow the link for more details. The code "Poutiner10" will give you 10% off.
Original music by Charlie Twitch
- Main themes; opening, credits.
Credits
Created, written, directed and post-production by Olivier Bonenfant
Camerawoman and assistant director Iphigénie Frey
Notice
This series and this episode are not associated nor sponsored by these businesses, organisations or filming locations. This list is indicative only and there is no guarantee on accuracy.

The critical part of this episode with the review reflects only the final assembled poutine and not the individual ingredients and products. For entertainment only.

All footage captured from and on publicly accessible places or via an entry fee. No fence jumping.