Ingredients
House (laneway) fries

Con Bò Cười cheese

Soybean sprouts

Mint leaves

Bánh Khoái or bánh xèo (the crepe)

Hue hoisin sauce
Bonus poutine
The Pho poutine

I think Vietnam's best export when it comes to food is the Pho soup. So just buy a Pho, and dump fries in it. That's it. Beef
Beef gravy with hoisin sauce
Fries
Coriander
Basil
Pepper
Sriracha sauce
Ginger
Onions
Shallot
Bean sprouts
Fish sauce
Curd cheese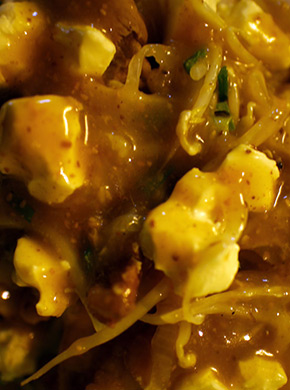 Added content
Click here for a dedicated page with extras..
- 3 images
- 1 dual-screen 5120x1600 wallpaper
- Video: Road trip around Da Lat and other landmarks of Vietnam
- Coffee break. Bonus: it's weasel coffee the coffee made with grains shat by weasels.
Thanks
The Moose & Roo Pub & Grill

The Tran family

Alex Pagnoux

Hue, Hanoi
Music
Arms and Sleepers, The Pedestrian (Instrumental)
Licenced by Audiio. Follow the link for more details. The code "Poutiner10" will give you 10% off.
Original music by Charlie Twitch
- Main themes; opening, credits.
Credits
Created, written, directed and post-production by Olivier Bonenfant
Camerawoman and assistant director Iphigénie Frey
Notice
This series and this episode are not associated nor sponsored by these businesses, organisations or filming locations. This list is indicative only and there is no guarantee on accuracy.

The critical part of this episode with the review reflects only the final assembled poutine and not the individual ingredients and products. For entertainment only.

All footage captured from and on publicly accessible places or via an entry fee. No fence jumping.